In 2013 I was working on a project where I was not pleased with the results.
In short, I was looking at every part of the business–hiring practices, onboarding, training, purchasing, sales, financial reporting, and then some.
Finally, I pulled out a legal pad and started mind mapping. I listed six essentials that we had to be knocking out of the ballpark regularly. Then I took my pencil scratchings and entered them in a software tool I use as such:

For whatever reason, I labeled the hub of the mind map Mastering the Disciplines. Had I seen that term before? Maybe, maybe not. But, it stuck.
A Simple Process for Mastering the Disciplines
Should you work with G3CFO, within 90 days or earlier, we'll identify your soar spots of the business. Sometimes, that's on your front stage, or it may be on the backstage (like back office billings or collections).
Once we sketch out the disciplines (from 5 to 6), we'll obtain your objectives and goals for each discipline you need to master. I have a sample that looks similar to the below: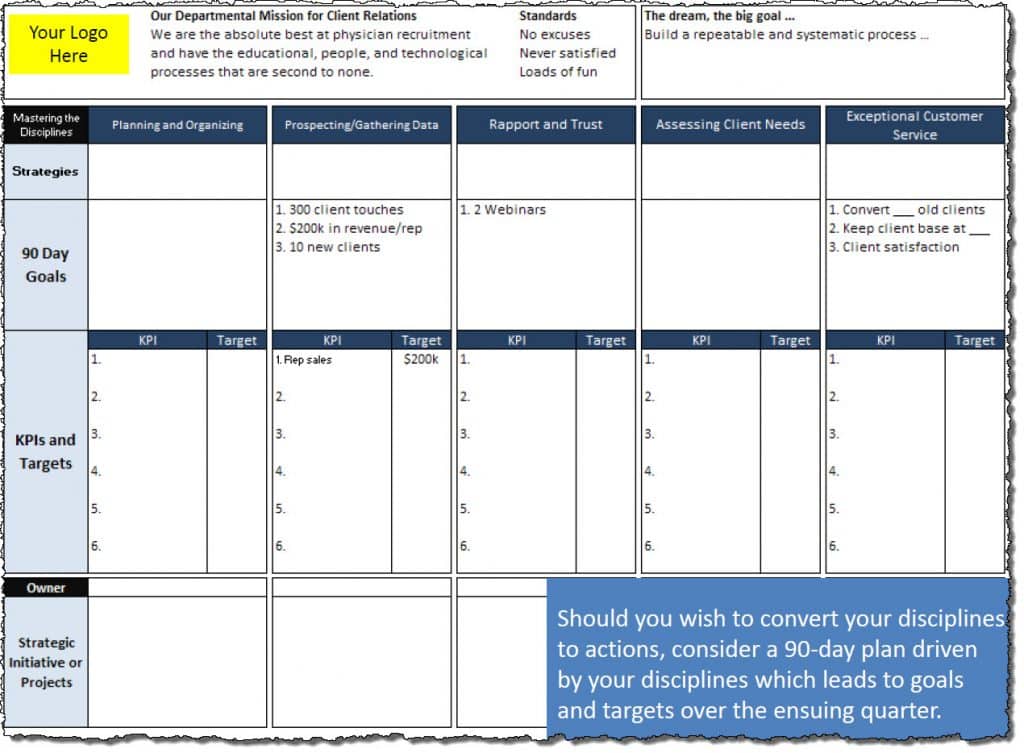 Finally, we subjectively grade the disciplines or daily habits we're trying to master. I've done this is Tableau, Smartsheet, Google Sheets, Access, and Excel.

Mastering the Disciplines is a Fundamental Concept in the G3CFO Doctrine
Whether you run a professional services firm, a wholesale food distributorship, a tech firm, a staffing agency, an injection molding company, what are the disciplines you need to master?
Here's a recap below where I use an e-commerce business as an example:
Mastering the Disciplines is at the heart of the G3CFO Doctrine. Would you like it to be a part of yours?