Early in my business career dating back to the late '80s and early '90s, I was not much of a reader. I think I can count on one hand the first few business books I read:
1. Barbarians at the Gate by Bryan Burrough and John Helyar
2. The Goal by Eli Goldratt
3. The Machine That Changed the World by Roos, Jones, and Womack
4. In Search of Excellence by Tom Peters
What was number 5? Drum roll, please.
The Great Game of Business
In 1994, I walked into Dennis Karsten's office. At the time, he was the President of Orscheln Farm & Home based in Moberly, Missouri.
"Mark, want this book?"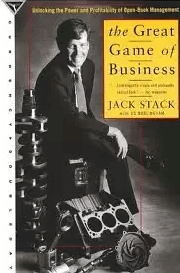 "Sure," I said. On the cover was a guy with a suit sitting on a large engine. It was a paperback where the edges of the pages were jagged. Couldn't the publisher afford higher-quality paper, I wondered?
I didn't look at the title until I got home. Once my family got to bed that night, I started reading The Great Game of Business.
Why did Dennis give this to me? He should have read it himself. I loved it and I got it finished a few evenings later.
I'm Not Here to Teach You Open-Book Management (OBM)
Sorry, I don't do what others can do far better than myself. I know how to implement OBM, but I'm not going to teach it on an open platform like this one. Let's leave that to the experts.
And the experts are by far the great men and women behind the Great Game of Business based in Springfield, Missouri, my home state. Definitely, spend some time on their website, and take note of the amazing content you can download from their site.
Dennis, I owe you. You gave me a hunger and thirst for the way every CEO should raise the engagement level of every employee in his/her company.
But I Will Brag About a Client Success Story That's Super Cool
One of the CEOs I serve asked me to build a scaled-down financial package for two of his senior management members. Since then, I've had a couple monthly meetings with them going through the numbers.
After meeting number two, one of the managers asked for additional detail on marketing costs, as we spent upwards to $4 million annually on this line item.
A piece of cake. I culled data from our ERP system and provided the costs by month by vendor. A week later, the CEO was thrilled that every cost was being scrutinized by this manager and was wanting to start eliminating some of these expenditures.
Was he asked to do that? No.
Did he take ownership of the numbers? Yes, absolutely.
This is OBM at its finest. OBM is not just sharing a P&L, balance sheet data, or various analytics. OBM is about personnel owning the numbers in an OBM environment. Owning the numbers means taking action when no one is asking you to or when no one is looking. That's powerful.
My client is fortunate to have such a team surrounding him.
Two Key Ingredients to OBM
I just stated my client is fortunate to have a team surrounding him that takes ownership of the numbers. That's what I say. That's what he believes.
But what came first? The CEO's decision to open the books to a couple senior team members. And that's ingredient number one.
OBM is not a flavor-of-the-month. Do not expect quick results overnight. My opinion is that OBM is not implemented. It's integrated into an existing culture. The integration is iterative. OBM is never perfected. We integrate OBM, we learn from it, we improve it, and we keep repeating the process.
I would go so far as to say that OBM is based on a culture closely resembling the personality of the owner. If the owner is a private person and likes to keep information closely guarded, I question if OBM can ever work in that environment.
But if the owner is open to change, cares seriously about employee engagement, and deeply desires a culture of continuous improvement, then OBM is a natural fit for such a CEO and his/her company. If that's the case, ingredient number one is making the decision to explore and eventually implement OBM. And I'd start with small steps in the early going.
The second ingredient is a staff that's going to act. The goal is more than communicating financial information.
We want employees to see the numbers, learn from the numbers, and then act on those numbers.
How does that happen? Through education. Lots of it. And that's where consulting pros who understand open-book management can help you.
Did OBM Start in the 1600s?
I'm one of those prove-it people. I like my data and research well done. It's only fitting that I live in the Show Me State.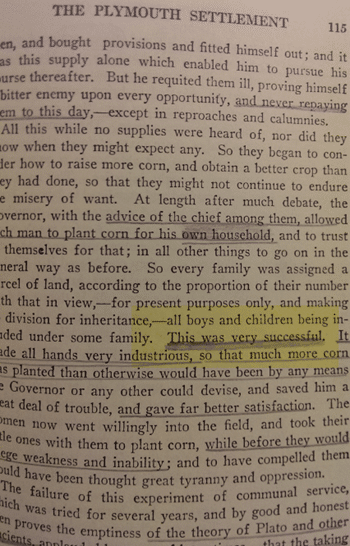 Many years ago, I painstakingly read Of Plymouth Plantation, the lengthy diary of William Bradford.
The separatists of England founded Plymouth and ran it as a communal colony.
Lack of food was a persistent problem. Ultimately, Governor William Bradford and his advisers suggested that each landowner plant corn for his own household. Originally, all crops raised were turned over to a communal storehouse.
In Bradford's own words, "This was very successful." Bradford goes on to say that, "It made all hands very industrious so that much more corn was planted than otherwise would have been by any means the Governor or any other could devise."
And here's my favorite assessment from Bradford:
The failure of this experiment of communal service which was tried for several years, and by good and honest men proves the emptiness of the theory of Plato and other ancients, applauded by some of later times,--that the taking away of private property, and the possession of it in community, by a commonwealth, would make a state happy and flourishing; as if they were wiser than God.
Not all OBM businesses share their profits with staff members. Nevertheless, OBM businesses that start to open the books will probably see increased productivity and engagement similar to the colonists in the early history of Plymouth.
No, the Plymouth experiment is not an OBM case study, but the correlation to OBM is strong.
Other OBM Resources
Should you read The Great Game of Business and find yourself wanting more, a few other books come to mind.
Read Open-Book Management by John Case. Chapter after chapter is filled with real case studies, and the content is practical enough to give you ideas for implementing your own OBM system.
While not an OBM book per se, the little book, The Game of Work by Charles Coonradt is an excellent supplement to Jack Stack's first book.
You may be wondering if Jack's second book, A Stake in the Outcome is worth reading. Absolutely. However, he dives deeper into the nuts and bolts of employee stock ownership plans and how Springfield Remanufacturing Company structured theirs. Yes, go ahead and buy it, but you may not be ready for it just yet.
I've saved the best for last. Thanks to Shawn Burcham of PFSbrands, I now know Patrick Carpenter (great guy, great leader by the way). Patrick's mother was a pioneer in the education and implementation of open-book management. Her book co-authored by Patricia Kane is entitled The Power of Open-Book Management. Get it, read it, then re-read it again. Then just do it.