Please Fix Your Bar Charts
"Hey, Bill. How's it going?"
"Mark, going well. We had a great month." Bill told me he's decreased his line of credit by nearly $750,000 over the past 45 days. Bill is one of my favorite CEOs. He's created more millionaires than anyone I know with his staff. Both customers and employees love him.
Bill's company sells milk, cheese, and ice cream products to some of the large specialty food chains in America. I meet with him quarterly because he likes using me as a red team sounding board.
The Butt-Ugly Graphs
Bill showed me some sales graphs that he did in Excel. I'm not a visual analytics snob, but in the words of Steve Krug, Don't Make Me Think. If you show me a graph, make your point succinctly and intelligently without making me expend too many brain calories. Bill didn't pass the test with this visual: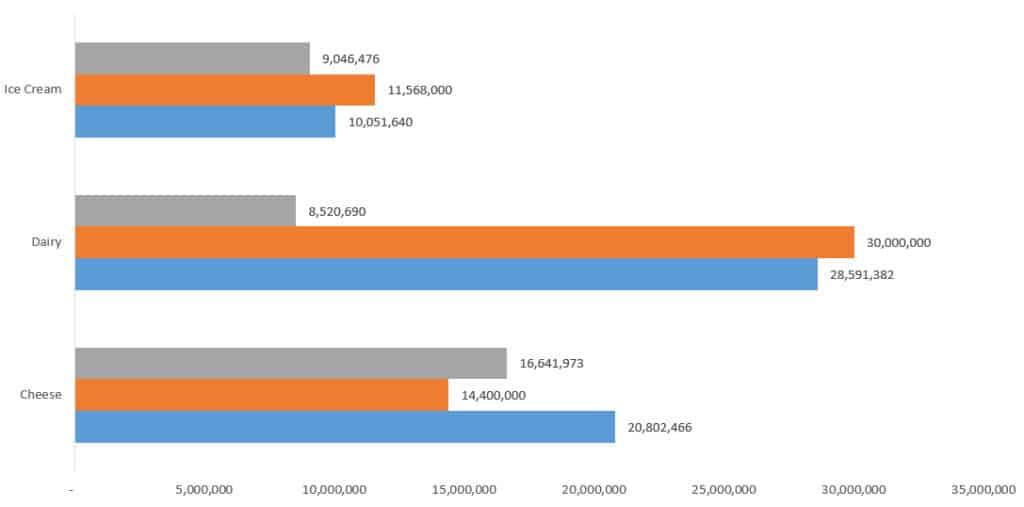 What do you think of Bill's graph? His legend got cut off, but the gray color is Last Year, the orange color is Budget, and the blue is This Year.
He admits he did it fast by allowing his spreadsheet to do most of the work. Here are my observations:
Why not sort the list by actual from high to low?
What about the trend because budgets are subjective?
Can't we make the visual a little easier on the eye because we're comparing three pieces of data per product line?
Here's the version I showed to Bill. Do you think he liked it?

I created a simple bullet chart innovated by Stephen Few, although my shaded area represents last year's actual sales. The dark color is this year. The Gantt line represents the current year plan.
To minimize chart junk, I removed labels, but I added a tooltip when Bill hovers over the bars, which includes actual to plan and year-over-year expressed as a percentage. In the next version, I also removed the grid lines as they provided no additional value.
Do you prefer Bill's version or mine?
Below is one last version I provided my client. When hovering over the bars in the top section, the two graphs are dynamically filtered so we can see some simple historical trending which provides more context.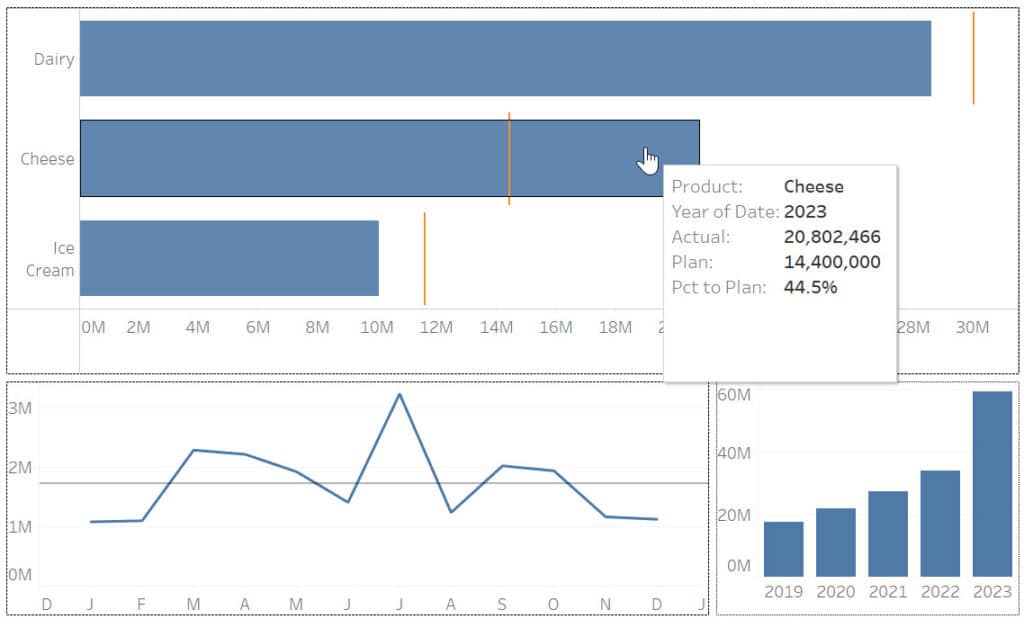 "Mark, can you show me one more iteration? Can you put a table with actual monthly values below the main bar chart? The reps and I use that data for planning future periods?"
Here's what that view looked like: