Regain Control of Your Business
With a Robust Financial Operating System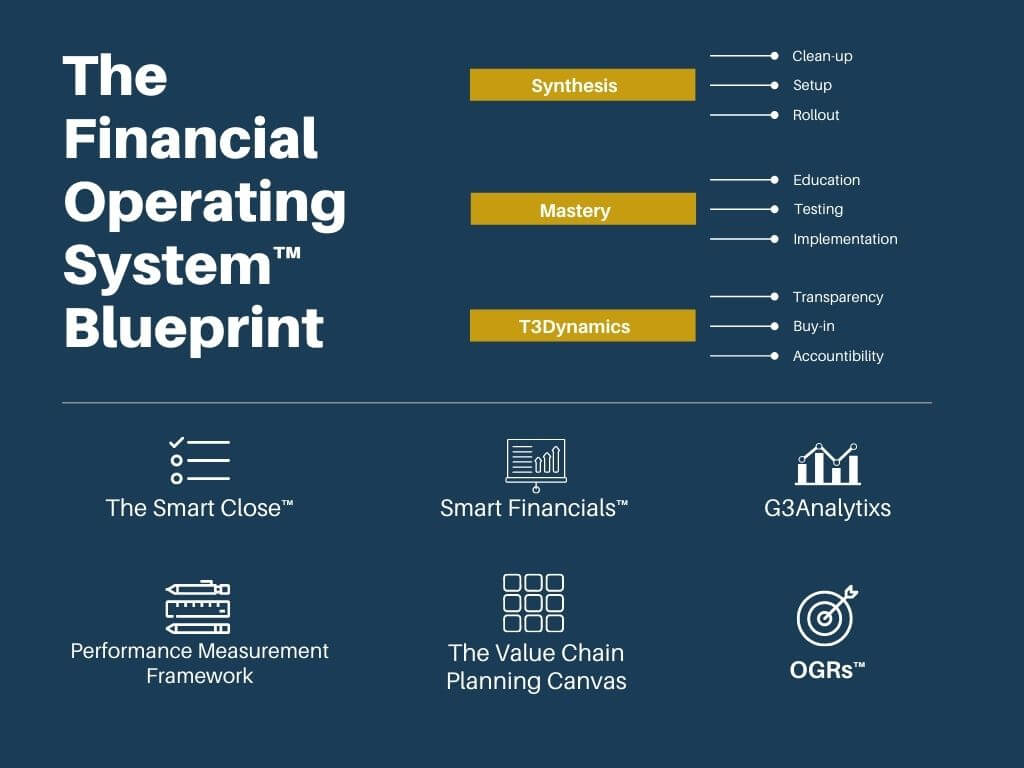 unlimited Possibilities
Gain Greater Confidence With Better Reporting, Analysis, and Planning Tools with a Proven Framework
The Benefits are Immeasurable
Streamlined and improved accounting and back-office processes
Strong cashflow resulting from new disciplines
Reporting and real-time analysis that makes sense
Continuous and agile planning using a handful of critical success factors
A highly-committed team that wants to grow as much as you do
Let's Obliterate Your Problems
How G3CFO Solves Your Biggest Financial Obstacles
Cash Flow Drains
Cash flow inefficiencies and unpredictability are detrimental to any business. G3CFO tools address these issues before they occur.
Performance Monitoring
Most small businesses lack basic customer, sales, and operating performance measurements. G3CFO tools are simple and easy to take action on.
Financial Capital
No small business should ever have to worry about a lack of financial capital. A side benefit to the G3CFO framework is that issue begins to disappear.
Erratic Workflows
Before G3CFO touches anything, all back-office workflows and practices are examined. This step alone addresses cash flow weaknesses.
Bad Accounting
Every small business suffers from poor management accounting because owners cannot afford the competent staff to do the work enabling value creation.
Confusing Reporting
G3CFO is typically hired on the spot when mock-up financials, flash reporting, and planning paradigms are demonstrated – these tools do not exist on the market.
Painful Planning
G3CFO uses a continuous and agile planning methodology generally limited to only large organizations. G3CFO simplifies these tools and are available online.
Disconnected Teams
G3CFO tools are geared for the entire staff. G3CFO teaches the T3Dynamics framework which ensures team members are rowing in the same direction.
Poor Goal Setting
Many CEOs focus on the trivial many or no goals or objectives at all. Through our OGRs framework, G3CFO makes goal-setting both fun and achievable.
Who is the Financial Operating System™ For?
Level 1 CEO
Struggling
Small business owner with weak to non-existent financial acumen and capabilities performing many of the sales and management duties. Reporting is poor and planning is haphazard at best.
Level 2 CEO
Growing
CEO is still running sales and makes key operating decisions. The company has one staff accountant with clerks, but formal reporting and planning are still non-existent. Analytical insights are still missing.
Level 3 CEO
Maturing
The CEO has been able to hire a CRO, COO, CMO, and a controller with industry experience. The CEO wants to take the team's financial acumen to a whole new level which would be a game-changer.
It's True, This Stuff Really Works
Accordingly, Don't Just Take G3CFO's Word For It
Don't Wait
Contact G3CFO to Learn More About the Financial Operating System™