Ten Lessons The Piano Guys Can Teach Us about Launching a Business
Recently, my oldest son recommended a couple videos to check out knowing I would love the music. He was right. I immediately became a raving fan of The Piano Guys.
On YouTube, more than 3 million raving fans have clicked 500 million-plus times on music videos by The Piano Guys.
Their story is not unlike any start-up I've worked with over the years. In a multi-part interview with the producer, performers, and crew, I felt like I was watching a Business 101 course in launching a new product.
Source for this Article

This article was based on content from a KSL-TV
interview
which is an NBC affiliate based in Salt Lake City, Utah. The interview is broken into several segments spanning about 23 minutes.
A Brief History of The Piano Guys
Paul Anderson owned a piano store in Utah and wanted to grow his business through FaceBook and YouTube marketing. He had the right idea, but the seed did not germinate until pianist, Jon Schmidt, asked if he could practice for an upcoming performance at his store.
Those original members of The Piano Guys ultimately grew to five, all dads from Utah. Soon after, they became a YouTube behemoth with more than 3 million subscribers ranking them in the top 200 channels on YouTube.
The Piano Guys stage is typically a beautiful, outdoor landscape somewhere around the world. Their music genre crosses all generations, young and old with their unique blend of classical and contemporary pieces.
As of this writing, they show no slowdown in popularity. In the past six months, their YouTube subscriptions grew by nearly 500,000.
I'm anxious to see what the future holds for this team of five dads from Utah.
After about three videos, I realized these guys were not chasing a meaningless dream. There was purpose, direction, and yes, a business model. Was it perfectly planned? Probably not. But they figured out the key to monetizing their passion.
So here are 10 lessons we can all learn by getting on the same business sheet of music of The Piano Guys.
1. Passion Still Counts
I continue to be amazed if not intrigued by writers in the blog universe stating that passion is overrated (try it now, Google "passion is overrated" and you'll find some interesting articles, even one by Scott Adams) . Maybe it is. Maybe it isn't. But one thing we do know. The Piano Guys love their craft. You can see it in all of their videos. They smile as they play. There is passion written over every second, every bar, every note in all of their videos.
Both the pianist and the cellist come from musical backgrounds. As mentioned earlier, the producer originally owned a piano store. The music producer (the sound guy) also loves music.
Take away that passion and I doubt there are 500 million views on YouTube.
Jon Schmidt sums it up best when he says, "I'm glad my mom made me practice the piano."
If you side with the group stating passion is overrated, then your business has probably become a job, a chore, or even drudgery. With passion, you have purpose. When you have purpose, business no longer feels like work.
Passion still counts. Passion coupled with a raving fan base willing to shell out dollars for incredible products equals one heck of a business model.
2. Getting the Right Team in Place Is Huge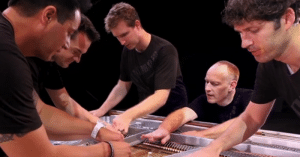 The Piano Guys started with a piano store owner, Paul Anderson. Next in line was the pianist, Jon Schmidt. Paul initially asked Jon to help him in his YouTube marketing efforts. Jon knew Steven Sharp Nelson, a cellist. According to Jon, that's when the trio began to take off.
Steven lived in the same neighborhood of a great studio guy named Al Van Der Beek. Then there were four. Paul already had a videographer working at the store who was going to school part time. And it's this team of five that got the Jim Collins flywheel in motion. That flywheel, by the way, is moving pretty fast.
And so it goes in the world of start-ups. Getting the right team in place is crucial. The Piano Guys all like one another. Five dads from Utah with common interests, common backgrounds, and a common faith.
While the likability factor is icing on the cake, what's more important is the key roles are well defined. And there seem to be no holes in the critical positions needed to succeed with their challenging business model.
Great product–check. Great planning, scheduling, and project management–check. Great marketing–check. Well, it appears the marketing aspect has been a learning experience from day one. But they are good at it, very good.
3. Differentiation Matters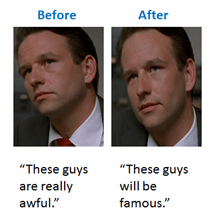 One of my favorite scenes in Walk the Line is when Johnny Cash (played by Joaquin Phoenix) is auditioning in a music studio for the first time. After just a few bars, the producer stops Johnny because the music is dull, unbelievable, and uninspiring. The producer wants to hear something people will remember, something that's different, something that's real, something the singer feels.
I have no idea if that scene is part myth or actually real. But I enjoyed how the scene ended. The record producer's attitude changed from one of indifference to that of being pleased. It appears Johnny Cash and his band nailed it that day, and the rest is history.
The Piano Guys are playing in a sandbox that's incredibly competitive. Differentiation is critical as there are so many choices for listeners on YouTube, iTunes, Amazon, and so many other places where performers are clamoring for love and attention.
However, the The Piano Guys have found a creative and differentiating way through this crowded space with their stylistic nuances to create something that's truly different and fun. I even wonder if Clayton Christensen would call their brand of music disruptive?
Style is not the only area where they are different. Scroll through their YouTube channel and take note of the many different locations where you see them playing. They love to mix it up.
Whether you brew beer, maintain HVAC systems, run a small community bank, or sell groceries, differentiation is critical, and The Piano Guys have proven this concept through their unique spin on music.
4. Minimum Viable Products (MVP)–Necessary Even in Music
I'm no betting person, but a buck says these guys don't know what an MVP is, and no, we're not talking sports either. Eric Ries popularized the term Minimum Viable Product in his best-selling book, The Lean Startup.
The Piano Guys are unwittingly applying concepts taught by Eric Ries–sell what the customer wants by continually learning and listening to them.
And that is exactly what The Piano Guys are doing before they launch new videos. They get instant feedback from their fans on every video they produce. That allows them to make necessary changes to new videos.
Brilliant.
5. There Is an Art to Business Launches
I was a little surprised when I found out The Piano Guys only had 5,000 YouTube subscribers and 1,000 Facebook followers when they launched their first video. More great videos and placing first in a YouTube contest garnered more hits on both social media platforms. But funding was still needed.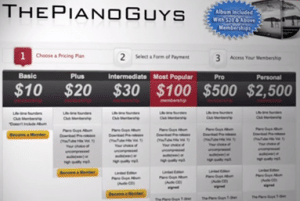 That's when they launched a membership program ranging from $10 to $2,500 to raise capital for keeping their operation afloat. As the story goes, money started rolling in from all over the world. Without those great videos going viral, that money never appears.
One of the key takeaways, especially for businesses relying heavily on internet marketing, is to focus on list building out of the gate. That list ultimately becomes a valuable asset over time.
When The Piano Guys launched their first album they relied on YouTube, Facebook, and their list to drive sales.
One other marketing concept that remained central in the early going was not to sell directly in the YouTube videos. Instead, the focus was on great music while showcasing the Yamaha piano throughout the videos. The focus was to give, give, give. That came first. Product promotion was done without being salesy.
I believe marketing is the hardest discipline to nail in any start-up. Winging it does not work. There has to be a plan from day one. If it works, make the marketing better and better. If the plan doesn't work, pitch it and try something else. Fail at this aspect of the business, and sales dry up as does the business.
6. Core Values and Guiding Principles Reign
Paul Anderson made it clear in the beginning the music had to stand on its own. That's a great comment when fans probably enjoy watching their material as much as listening to it.
In his interview with KSL-TV, Anderson states he wants high quality, high definition, and a good sound. Experimentation will be ongoing, but their core values based on quality will never be compromised.
You do not need an off-site retreat to figure out your core values and guiding principles. Nor is creating these core values some abstract, meaningless exercise. Your core values and guiding principles start with you, what you stand for, what you want, and what you want to be known for.
In short, core values and guiding principles are the business non-negotiables that will rarely, if ever be changed in the life of a business. Paul Anderson was clear from the beginning what he wanted his brand to represent. In short, he's created the group's True North for every aspect of their business journey.
7. Business Names–Do They Really Matter?
A cellist? The Piano Guys? Say what?
Yes, they get that question a lot. And that's where they get to share their history and how the name originated.
Business names, logos, and branding (colors and themes). Important? Yes. But critical in the early going? I think not.
Focus on the product and customer first. The name and branding will take care of itself over time.
8. Focus, Focus, Focus
During the KSL-TV interview with Paul Anderson, the producer explained the group hit a fork in the road as they started gaining popularity. A decision had to be made on what to do as producing videos came at a steep cost–mounting business debt.
It was either the piano store or the music. One had to go.
They chose the music. And they chose right. More than 3 million fans are glad they did. I too am thankful.
Lack of funding or capital does not doom all start-ups. Neither does a weak management team. In many cases, it's lack of focus and chasing too many rabbits. As the old Chinese proverb goes, "The man who chases two rabbits catches none."
The Piano Guys in the early going were chasing two rabbits. They ultimately aimed at one. And they caught it.
9. Words of Affirmation Mean a Lot
In the KSL-TV interview, the members reveal they are moved by the encouraging comments they receive from their fans. These comments fuel them to keep moving on, to keep raising their "A" Game to a much higher level.
However, those generous comments started with a great product, a great sound, great videography, great everything. They are fortunate in that they receive immediate feedback after each video is released. And, I bet they read the majority of the comments that are posted on Facebook and YouTube.
Every start-up needs immediate feedback on their product or service offering (we alluded to that in the MVP comments above, which is a Lean Startup concept). And that feedback needs to turn into action of some kind.
As start-ups move through the survival stage toward success (hopefully), that immediate feedback is still vital. Every business in this stage and beyond should formalize their customer feedback using Net Promoter Score (NPS). More than a metric, NPS is a great management system in improving the business-customer relationship.
My favorite resource in learning the basics of NPS is a video by Satmetrrix.
10. A Call to Action for Every Action
As I was prepping for this article, I enjoyed watching a handful of The Piano Guys videos.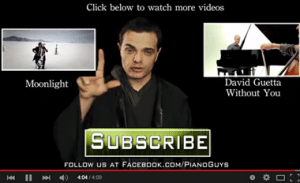 I've already mentioned these guys are nailing it from a marketing perspective, and so I shouldn't be surprised that their calls to action are very well done.
At the end of each video, the calls to action are fitting, not forced whatsoever. Their calls to action include clicking another video, clicking a link to their main website, or buying the track. In all cases, their calls to action are well done.
Not every call to action in your business has to be about buying something. It could be "Tweet This", "Learn More" by obtaining a free white paper, or even, "Signing Up" for free access to an online application.
Calls to action are part science, part art. Like marketing, testing will be needed. Consider the services of an expert internet marketer. In short, you and I both require a call to action on every piece of content we produce in cyberspace.
Wrapping Up
This was fun. These guys know a thing or two about business whether they know it or not.
Plus, I'm one of their raving fans and a new customer.
I hope these guys keep pumping out great videos.