Financial Statements in 3 to 5 Days
My very first client was a small one. We did a little over $1 million in professional services. And since I quickly learned that business inside and out, we had financials completed by the first day of the month. That meant the closing was done on the last day of the month.
Yes, it was hard. Just because the top line was small, the procedures for closing the general ledger were still similar to that of a $20 or $50 million firm.
And not only were the financials closed the night of the final day of the month, but I also created a 25- to 30-page in-depth financial report as well. We knew exactly where we were and how and why we got there. My presentation also sketched out the future over the ensuing 6 to 12 months.
Contrast the above to the typical business owner I meet who wants to hire me. On average, the financials are cranked out by the third week or beyond. The reporting is kicked out of the financial accounting package which provides no meaning or insight whatsoever.
Want to know how to mesmerize a CEO who deals with this shortcoming? Tell him or her that timely, accurate, financial numbers are achievable in three to five days.
The Secret Sauce to Quick Numbers
I can describe the month-end close in two sentences. The financial closing begins with a complete reconciliation of the balance sheet. The financial close ends with an analytical review of the income statement. There's more, but that's the heart of the process.
And the secret sauce? Just a list of to-do items each month along with due dates and who will perform the work. This can be done in spreadsheet format. Below is an excerpt of a closing checklist from one of the first clients I started serving in my practice. Our bookkeeper only had a marketing background and was the spouse of the owner. Yet she followed the list as prescribed.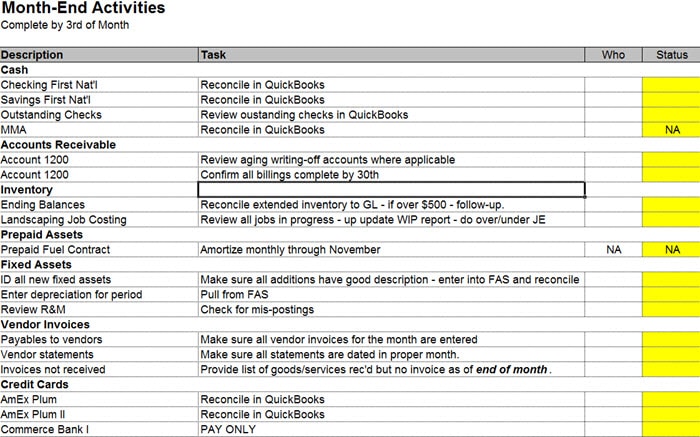 Today, I use a much more sophisticated system with many more bells and whistles, but the concept is the same. We list out what needs to be done, who is responsible and corresponding due dates.
We Need More than Speed, We Need Accuracy
First, do it right. Then speed it up.

Charlie Francis, Ben Johnson's track coach, from the book Speed Trap
Timely financials are meaningless if the numbers are not accurate. Most accountants perform a bank reconciliation at a minimum, but even that process is usually completed with faults.
In most cases, I'll find in-transit items older than 90 days. When I ask why these still exist, the typical response is, "I need to check into that." This is called going through the motions without knowing the principles behind each step in the closing process.
Accuracy begins at the inception of every single transaction. At month-end, we're merely validating what we know should be 95 to 99 percent accurate.
For each major transaction cycle (an example of a transaction cycle would be customer billings), I push my clients to document each and every step in the process. Many businesses get caught up in the proper way to document. It doesn't matter. It just needs to be readable and repeatable. Just document. Worry about format later.
The example below shows the pattern I follow for documenting key processes in the accounting and finance department. I happen to know this client has updated the process since we first documented the process.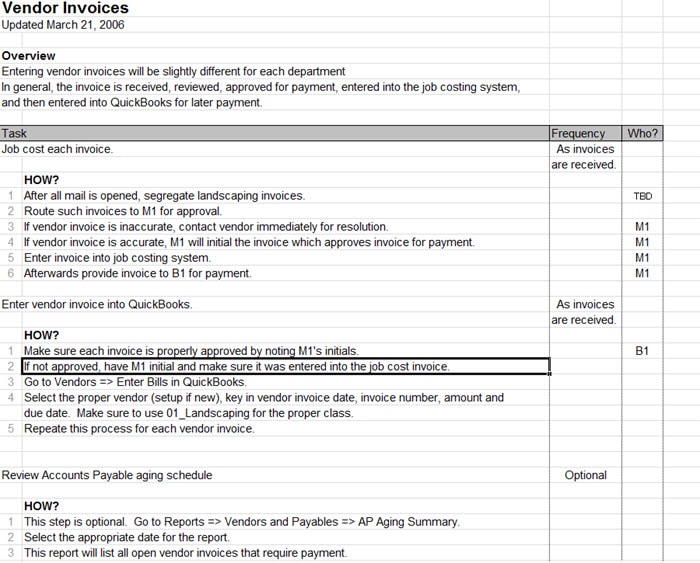 But I didn't stop there (as in the recipe approach to the process above). I created a simple flowchart which shows the workflow of the process. I now generally use SmartDraw, but spreadsheets work equally well.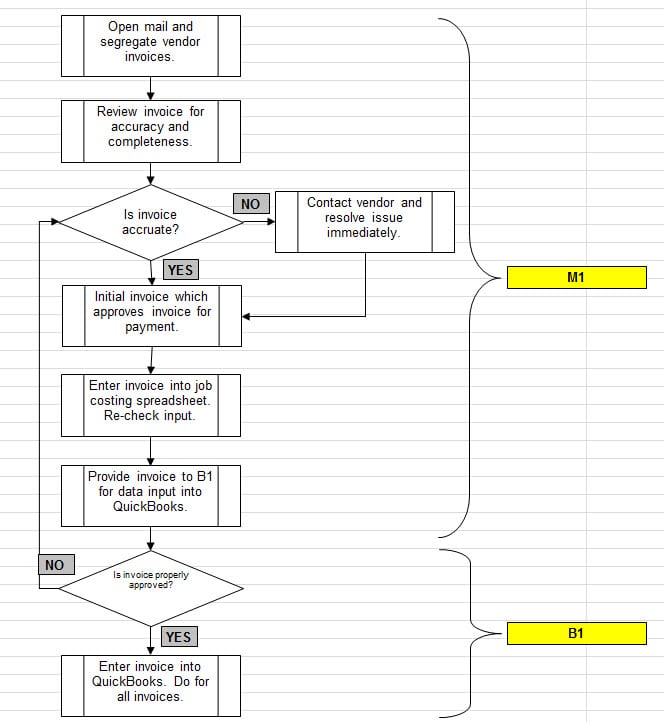 Accounting teams that nail down the day-to-day business processes improve the overall accuracy of the thousands of numbers landing in the general ledger every year.
Meaningful Financial Statements
Once we have timely and accurate numbers, we now need numbers that make sense.
In my opinion, QuickBooks has done more to dumb down the financial intelligence of any accounting package I've encountered. Okay, that's not fair. Instead, no accounting system publishes numbers that are easy to read.
Yet, most accounting and finance departments practice what I call push-button financial statements. Push a button and just like that, we have canned financials for everyone to read.
I have served several magazine publishers as their Free Agent CFO™. I have asked them if anyone would read their beautiful publications if we stripped out the pictures, the graphics, and turned the layout into non-formatted text only. When I explained that content is king, I received some harsh non-verbals in return.
The analogy applies to financial reporting. Layout and presentation are important. And I'm not talking about eye candy filled with meaningless dashboards. The numbers need to be presented in such a way that they tell a story. Progressively more detail should follow on subsequent pages.
Below is one example of the home page of a store P&L for a 200-store chain. The Director of Finance explained he wanted a format that would resonate with each store manager throughout the chain. For me, the most important question was, "What's important to the managers?" While the excerpt below only shows the front page, similar analysis follows over the following 15 to 18 pages.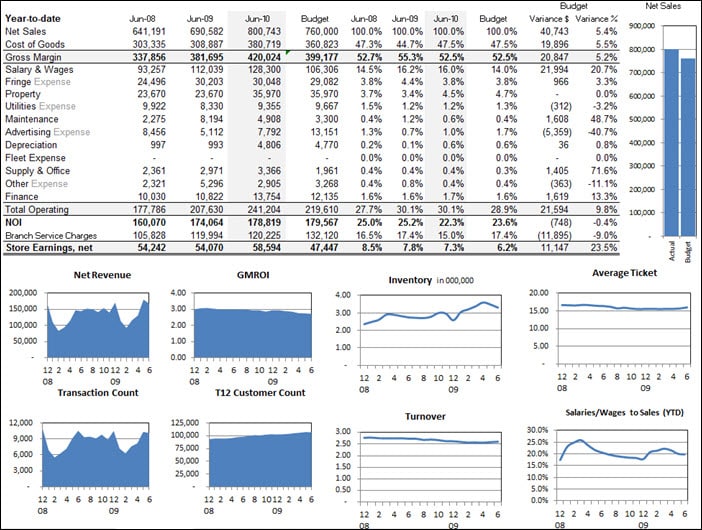 Developing meaningful financials is part art, part science. By making the numbers more compelling to read, financial statement readers will make quicker and more informed decisions based on the analysis they are being provided.
There Will Still Be Obstacles
I can teach this process in a few hours to accounting managers and controllers. We can have a system rolled out in less than one day. And the biggest barriers to this change? The very people I'm training (not always, but in many cases).
Competence is not the impediment. It's a change in culture. For years, one of my $40 million clients was used to third-week-of-the-month financials. While training only took a few hours to teach the above process, the culture had to be changed. And the value system of timely and accurate information had to be repeated often. Now, this company churns out numbers in three days each and every month. Needless to say, the CEO is extremely happy.
What does your financial closing process look like? Is it leading to great financial intelligence? Do you have standards in place for timeliness? Accuracy? Reporting format? Consider using the excerpt below as a starting point from one of the many CFO Playbooks that I create for clients.