Headings on the Accounts Receivable Aging Schedule
There's a reason financial executives hate collecting (or chasing) money from slow-paying customers. We love the thrill of the sale, but we hate making phone calls to collect the money when customers are late.
In the name of chilling out on such a frigid topic, I thought I'd share some of the suggested column headings for your AR aging schedule.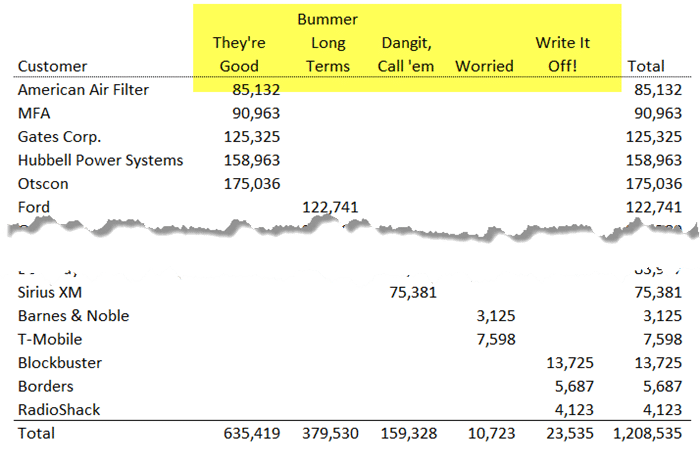 The Alternative Accounts Receivable Aging Column Headings
They're good.
Bummer, long terms (with no thanks to the sales team).
Dangit, call 'em. My editor had to censor my original word.
Worried. And maybe more worried for myself fearing what the boss will say (even though they signed off on the credit).
Write it off!
Here's the comparison: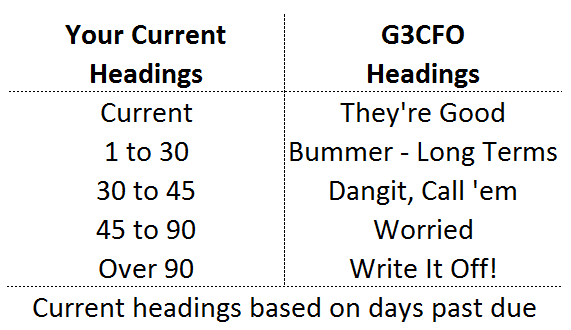 Let's Get Serious on the Past-Dues
Once upon a time, a small business begged for credit. The accounting department was leery based on their weak financial statements and extended balance sheet.
So we required COD terms for six months.
So far, so good.
Later, the sales team talked us into extending this customer generous credit terms. And for several months, they paid on time.
Slowly, they started paying a couple days late. Then a few more days later than that.
Since no one from the accounting department got concerned, they started paying 10 days late, then 15. Soon they were paying nearly 35 days beyond the due date.
When the new controller came on board (for the company providing the credit) and was plugging cash flow leaks, she immediately had her credit supervisor call the slow-paying customer.
A funny thing happened on that call.
You would have thought the bad guy was the credit manager, not the slow-paying customer. The call lasted about 20 minutes with the slow-paying customer blasting the credit manager for being too harsh and far too insensitive.
Okay, it was not a funny call. Peculiar, that's it. Perhaps bizarre.
The Moral of the Story
That's never happened to you, right?
Human nature can be fascinating at times. Accordingly, here's how I understand the natural order of customers being granted credit:
At first, they appreciate it.
Then they start to take it for granted and start paying late.
Next, they begin to expect paying late is the norm, and the gap widens between due date and payment date.
Ultimately, they demand paying on THEIR terms, not yours.
Extreme?
Probably. But that's because I still have my battle scars with slow-paying customers.
But trust me on this one–don't let your customers start paying you 1, 2, 3, let alone 5 days late. Customers that are 45 days late were at one time 1 day past due. It's your responsibility to maintain a disciplined-paying customer at all times.
Automate your systems where your customer's AP department gets an e-mail kindly reminding them their invoice is due based on the terms of the PO. At five days, call.
At some point, all of us need to start taking the blame ourselves for slow-paying customers.
Epilogue
If it appears I'm frustrated, I am.
I'm still not happy my editor replaced a certain word with 'Dangit' above. Bummer!
One more thing, I'm joking about the column headings. The new headings are a conversation starter for CEOs and their accounting departments because they get far too apathetic on dealing with slow-paying customers.
Don't hire me if you don't want to upset slow-paying customers. On the other hand, if you want your AR cleaned up quickly and a new attitude in your finance department for collections activities, let's talk soon.