Life After Selling a Business
Several years ago, I attended an event hosted by a company started by the author, John Warrillow. The best part of that event was meeting some amazing men and women who especially know how to build long-lasting value in the businesses they are serving.
During the last evening of that Toronto event, I sat strategically next to John and two consultants who had both sold their businesses several years earlier.
So in a situation like this, what does a CFO ask these men? I had just one. Can you guess? I'll give you a hint. It wasn't about the Toronto Maple Leafs.
What Do You Advise a Business Owner When She Is Ready to Sell Her Business?
I wrote this question down in my Moleskin earlier in the day looking forward to the answers I might receive.
I see too many owners holding on to their businesses, not wanting to let go. Regrettably, I've seen some wait too long–long enough for the business to sharply drop in value.
John Warrillow shared a comment that I found insightful. In a discussion he had with Mr. 4-Hour Workweek, Timothy Ferriss, the best-selling author told him running a business was like having a software virus running consistently in his head. He related that the business was consuming too much of his daily thoughts. That was a driving reason for selling his first company.
When I asked John if his so-called mental virus software shut off after he sold his last business, he quipped that it was tough the first few weeks. "There were no [business] friends to play with."
Don't worry, though, because John got over that sense of loss after his family packed their bags for a long and relaxing trip abroad.
Several Great Ideas for the New Life
As our meal progressed, I heard some great ideas on what the business owner needs to consider after they sell their business. Here are some of the best suggestions I heard at my table.
Do not jump into a new business immediately
Spend more time with family and children
Be introspective in finding your passion and follow it
Volunteer, be a member, or help other people grow and succeed
Be a part-time CFO or CEO
My biggest takeaway from these comments was that the owner needs to start thinking about the next season of life well before it starts. Otherwise, it could lead to much boredom and sitting around.
And that lead to a great conversation from a new friend, Tim Fawcett.
20 Memorable Minutes with the CEO of Eastwind Business Solutions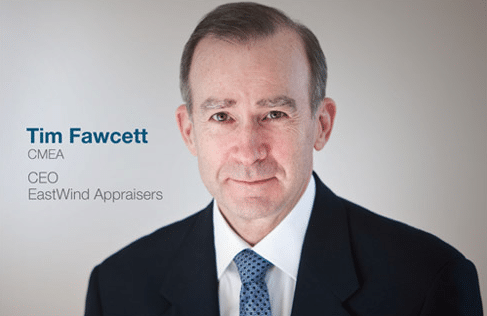 Within five minutes of an ice-breaker conversation with Tim Fawcett, he made me feel as though I had known him for years.
Tim and his brother were second generation owners of a family business that was tied to the lumber industry. They sold the Canadian-based business in early 2010, a process that took around nine months. Here is the conversation I had with Tim as we explored life beyond the sale of a business.
G3CFO: So how long were you in the business?
Tim: The business was 75 years old. I worked in it for 35 of those years.
G3CFO: That had to be hard I bet.
Tim: About 75% of our dollar volume was in the U.S. so we were reliant on the U.S. housing starts. In 2008, the starts went down by 50%, therefore the price of lumber tanked. At the same time we had a very large company in our province looking for fiber as we were granted an allocation from the government. So we decided that this was the time.
G3CFO: May I ask how old you were at the time? You look young and healthy, and I think that's an important part of this discussion.
Tim: I was 52, no 53, and too young to retire.
G3CFO: So what did you do?
Tim: (Smiling) I had no idea what to do. None. I could have gone to work for the buyer, but I chose not to follow that path.
G3CFO: You are now running a successful business coaching and consulting firm called EastWind Business Solutions. Walk me through your start-up process.
Tim: I did my homework. I [especially] researched the demographics on the baby boomers that will soon be looking to exit their businesses. I realized I had something to offer by sharing my experiences with them.
G3CFO: Did you jump into that work immediately?
Tim: No, I did not. I did nothing for the next three or four months. After that, I spent about six months building the EastWind business.
G3CFO: Tim, I really appreciate your feedback. Back to my original question. What's your best advice for someone about to sell their business. What do you tell them?
Tim: Stop. Reflect. Take time off, and do not make any quick decisions.
A Message for New Brunswick and Nova Scotia Business Owners
Tim is definitely your guy if you are interested in selling your business or wanting to build value in your organization. Tim is a thoughtful listener with a high degree of business and financial intelligence. Tim doesn't know this, but I'll be leaning on him periodically as I'm scaling one of my start-ups.
The Last Word
I rarely bring up the topic of selling the business to a client. I know very few owners that even want to discuss this topic.
Retirement is not the response to selling out. Instead, the end game is staying significant and doing what's fulfilling and enriching in life. You can start right now.
My suggestion is to find a young entrepreneur and start giving to him or her what you wish someone would have done for you as a young CEO.
To the men at Table One on October 28, 2014, that was an awesome evening.
Image from Ryan McGuire of Bells Design