Flawed Customer Service at CoMo Premium Exteriors
I've been fortunate to work with some amazing businesses around the U.S. in helping them build bigger and better organizations. Some of these businesses that were once small now exceed $100 million in revenues with strong operating cash flow and a clear path to succession when that time comes.
I don't work with many companies in my hometown of Columbia, Missouri. But there are a few. I've also built some amazing banking relationships that mean a lot to me, and a few have since retired.
When it comes to the businesses I've served in Columbia, most have been on the small side, with 30 employees or less. But I still love getting calls like the one I received from a startup that I served and mentored for six years, "Mark, you are the first person I've called. I've accepted a buyout for $22 million for the business. My staff will stay in place too."
In another case, I'm working with the second generation of a business that is in great hands, and they continue to grow and thrive.
As I look at the common denominator for success for each business I've worked with, there have been several prevalent themes: drive and determination, a hungry audience of customers backed by a sound business model, and an obsession with customer service.
I'll repeat that last common denominator–customer service obsession. If only my roofer practiced the customer service basics that my clients embrace daily, which they take for granted. If only.
My roofer is CoMo Premium Exteriors, and their story is a great case study on how not to treat valued customers.
A Picture is Worth More Than a Thousand Words
I know a little about the roofing business. I did roof work in high school when I wasn't hauling hay or locating buried telephone cables in rural Missouri.
Back then, we left the house the way we first encountered it. We were taught to treat another person's property like our own. Then again, is there another way?
I do a ton of work with specialty contractors, and WIP management takes front and center stage. Several smaller businesses also use pre-audit and post-audit checklists with their customers.
The post-audit checklist is phenomenal. A crew member reviews a punch list created in the pre-inspection audit upon job completion. It allows the owner to address anything on the property that is missing, broken, or out of place.
This post-audit checklist is sneaky in that it does two things. For the business focused on customer service, they appease the homeowner with any issues after the job is completed. If problems are noted, they are fixed immediately. In such cases, the fixes are addressed immediately.
In those cases, how many negative complaints do you think the contractor receives on Google or other rating sites such as Angi? I have no idea, but my customer-centric clients would say very few, if any, such as the one below on Angi.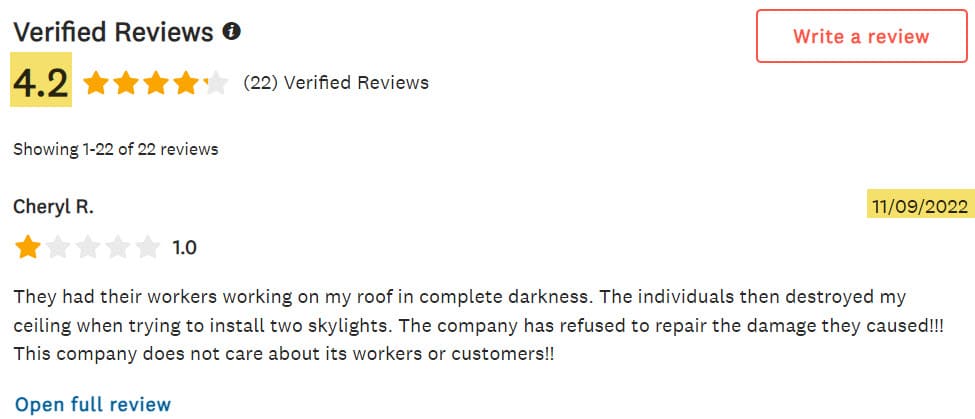 Unfortunately, I had a bad feeling about this contractor. I spent about $6,000 on the flower beds in front of my house this year. My wife repeatedly asked the young project manager or sales rep if they would be protected. He repeatedly said there would be no problem. I was still skeptical. Unfortunately, I was right.
The video does not convey the entirety of this botched job site. Here are some more observations that are still leaving me scratching my head.
The communication problem started at the outset before the roofing started. One morning, I pulled out of my garage and ran over a box. Surprisingly, I got out to find roofing materials in my driveway. Not only was the work to start a week early, but the project manager never called my wife to communicate the change. This is a combination of immaturity and irresponsibility.
I take WIP management in this industry seriously. The three pillars of job management are: on spec, on time, and on budget. Throughout those three pillars, communication is required (lots of it). Over-communication is required for its staff members, subs, and, most importantly, its customers. This immature contractor failed in this regard before, during, and after the roofing job.
You've already seen the video, but I'll mention the utter disregard for personal property. I'm still at a loss for how a company can carry itself as a legitimate player in the roofing space in my community. More on this point later on.
Remember the punch list I mentioned earlier? Our satellite dish is inoperable. Granted, you must remove wires carefully to remove and lay new shingles around a satellite. However, a qualified project manager will have a checklist for handling this work (before, during, and after the job). No one knocked on the door after the job was done to ensure our satellite was working. I'll label this act of omission as stupidity on the contractor's part.
One of the employees suffered a violent injury. Yet, no one from the home office came by to check on him. Fellow employees were indifferent to the injury even after my wife checked on this person in pain. Accordingly, CoMo Premium Exteriors has a serious culture issue that needs to be dealt with immediately.
The communication problem persisted when the job was over. The young project manager never called my wife to explain when the job materials would be removed from our property. One roofer in town states they pick up materials the day the job is done. Again, this is a firm that doesn't understand the concept of customer communication.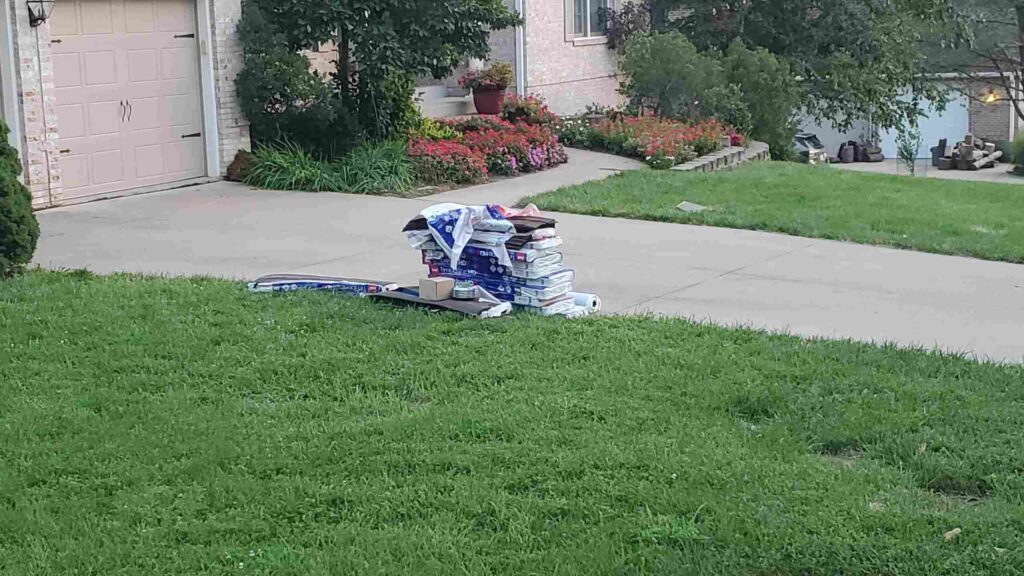 I can only assume what the owner and the senior leadership team could be thinking about. "We can't do what you are suggesting. We can't compete if we use checklists and treat personal property with due care."
I'll go back to what I stated earlier. I've served way too many business owners who take customer service to an extreme, yet they are wealth builders as they refuse to take shortcuts of any kind.
It takes years to build and keep a great reputation. It takes minutes to ruin it, just like this irresponsible organization did.
If I Were the CEO of CoMo Premium Exteriors
I'm going to skip the part where I'd revisit the entire business model of this small outfit. There are only three primary parts to running a business, and once I gained the overview of those three pillars, I'd start looking hard at customer service and every complaint we've had for the past 250 contracts. (My clients read these posts, and they know that 250 number is small, but it's a starting point).
I would do that because I assume the poor professionalism exhibited before, during, and after my roofing job persists throughout the contractor job portfolio.
Furthermore, I'd want to determine how those complaints were handled and resolved. Three words–the brand, the brand, the brand. Protect the brand at all costs.
Some owners might say, "You can't overfocus on quality customer service." That's probably because the same owner faces tight profit margins and poor cash flow. If so, that business will never survive over the long haul.
If you are curious where I would begin as the new leader of this roofing outfit, I'd start here after the overview mentioned earlier:
On Being Restaurant Smart (that's not a typo)
Changed Behaviors and the 60-30-10 Rule
The Rule of 6 and 125
These are not complicated concepts. They can be applied on the warehouse floor at Potterfield's eCommerce business or throughout the hallways of Veterans United Home Loans.
On Being Restaurant Smart
Change is hard, but I'd start with the behaviors that led to this shoddy display of poor customer service. First, I'd give every SLT member a copy of Unreasonable Hospitality, which would become our bible on how to treat customers, fellow employees, and subs.
Will Guidara is an amazing human being. I got to interview before many other podcasters took notice. Will was the former partner of Eleven Madison Park when it reached the Top 50 restaurants in the world for six consecutive years. During the seventh year, they reached the very top slot in 2017. Since 2011, they have received three-star ratings from the Michelin Guide, which is a difficult feat.
Will's book is Unreasonable Hospitality. He states his dad taught him the difference between restaurant and corporate smarts. One focuses on the customers; the other focuses on the money.
But in my CEO world, it's not one or the other; it's both. Incidentally, restaurant smarts start at the top, not the bottom. As the CEO, I'd have to model what that looks like. Then, we would practice restaurant smarts and over-communicate them daily.
By the way, I'm not subbing out roofing smarts for restaurant smarts. That's because roofers are in the hospitality business too. You see, we have to look at this business model from the eyes of the customer.
Changed Behaviors and the 60-30-10 Rule
I don't read leadership books. I prefer books by or about CEOs instead. One of my favorite CEOs is Hunter Harrison, and he turned around not one but four railroads while he was alive. The book Railroader is phenomenal in portraying the way he led others.
After he took over Canadian National Railway, he faced a major issue. The company's culture throughout the organization was pitiful, and an entitlement mindset was the norm.
His method of changing the culture started with the antecedents and subsequent consequences of poor behavior. Letting people go was not the answer. Changed behaviors were the solution. It took time, but his patience worked.
Harrison's story reminds me of the 60-30-10 rule taught by my friend and global S&OP expert, Bob Stahl. On any new initiative, Bob states that data is only responsible for 10% of the project's success rate. In this case, feel free to swap out data with any resources acting as input.
New systems, processes, and procedures taught properly only lead to 30% of the success of a new project.
The final 60% relies on changed behaviors.
Unless behaviors change, better customer service will never occur by accident. The desire to improve customer service starts at the top. The hard part is to permeate that mindset throughout the organization and its subs. But it's not impossible. The late Hunter Harrison would agree with this.
The Rule of 6 and 125
I'm a sucker for mental models that include a number in the name. I recently read about a mental construct mentioned by Jim Glidewell. He's the founder and President of the largest privately-owned dental labs in the U.S.
He claims that if one person has a bad customer experience, they will tell six people. Those six people will tell six more until 125 people have heard about this negative experience.
The results don't ramp up that way for a positive customer experience. A happy customer only tells two people. Only six people have heard this positive story as the good news is shared with others.
Glidewell concludes, "Bad news travels like wildfire, while good news withers on the vine."
This rule harkens back to being restaurant smart. Every employee and sub would know this rule by heart.
How many people will hear about my negative experience with this contractor? Will the 6 and 125 Rule apply in my situation?
I'm Not Expecting a Positive Outcome
I'm publishing this post before the young sales rep comes to the house to check the damage I have mentioned above.
Organizations like these generally do not take full responsibility for their actions. They make excuses and become overly cavalier when explaining their actions. There are exceptions, but few say, "We blew it. Our reputation is damaged even if we fix our wrongs."
CoMo Premium Exteriors will probably never change. They love the cash model too much to be customer-centric.
So why the post? I write for my clients, and this is a great case study on bad customer service. My clients are lifelong learners, and they love teaching new staff members. Many have unique onboarding processes on Day 1. Such days include sessions on customer service. I wouldn't be surprised if this post becomes part of the curriculum.
Here's hoping this highly preventable and fuel-stained sidewalk between two beautiful flower beds never defines our customer service.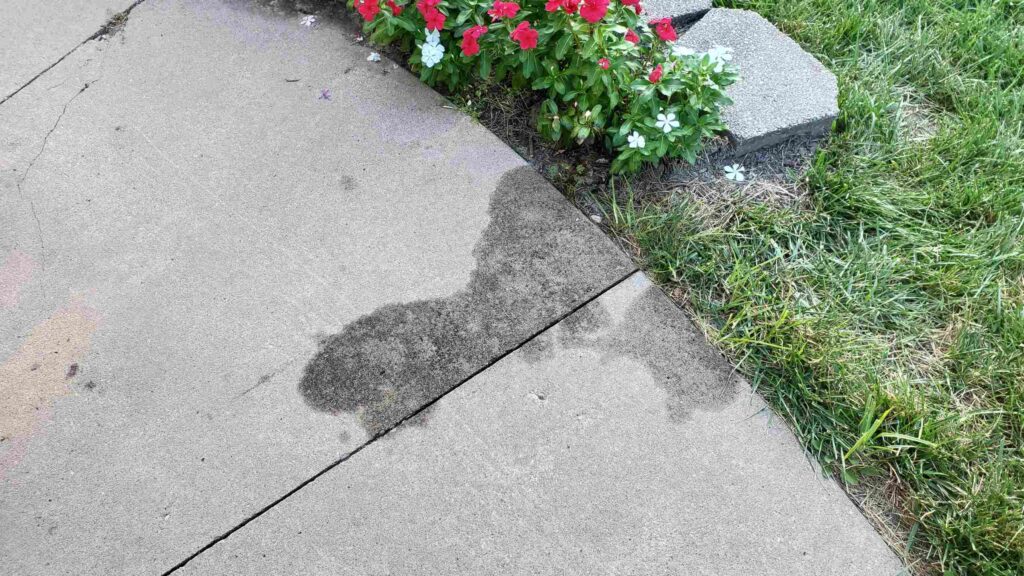 Updates
I'm not expecting a positive outcome from the trainwreck of the butchered service we encountered for a simple roofing job. However, I will try to keep this post updated for remedies for every issue I've mentioned above.
As of 8/22/23, the landscaping brick has been removed and returned where it belongs. However, the block is damaged. Now, I have a gaping hole in the front yard. The sales rep says he knows a guy that will fix it. I'm expecting a poor outcome on that action too. As expected, my wife was not given the day this hole would be refilled, seeded, fertilized, covered with peat moss, and watered for two weeks. I'm 100% confident they will ignore the grass killed by the fuel.
As of 8/22/23, the remaining supplies were removed from my front yard–exactly four days after the work had been completed. We'll never know, but I bet the materials would have remained there had we not called this irresponsible firm.
I learned yesterday (8/22/23) that the contract spells out the satellite recalibration process is spelled out in the contract. Okay, my bad on that one. If I'm the CEO of this organization, we spell that out in the pre-audit phase of the work. That way, there are no surprises. If I'm the CEO of this little business, I obviously focus on cash flow profitability. Additionally, I take the brand and extraordinary customer service very seriously. That means my firm will handle the scheduling of the recalibration process. We'll call DIRECTV and pay for the process. Of course, we'll over-communicate the status with the customer. By the way, how many similar firms will go out of their way to do this? Very few, if any. Don't just surprise your clients. Blow them away with unreasonable hospitality.
Stay tuned for more updates.