The Three Pillars of Project Management
I'm not a certified project manager of any kind. Yet, I find the work of PMs fascinating as they have three contract requirements for every job they perform. They have to:
Be on spec
Be on time
Be on budget
I've seen many consultants show Venn diagrams of what happens when only two requirements are fulfilled in three different scenarios. Accordingly, I will not replow that ground.
Instead, I'll focus on the other big three of project management. Business owners call these pillars. I call them necessities.
WIP Management
Let's start with the most obvious and important pillar of project management. I call it WIP management. WIP is short for work in progress and should not be confused with what normal accountants do at the end of every month–update the WIP numbers on the balance sheet and P&L.
WIP is a subset of project management as a whole. WIP is focused on quality, timeliness, and cost at all times. This single-mindedness is also viewed from a customer perspective, not an inward focus.
WIP management is at its finest during the weekly WIP updates with all key team members of a project/contract. The most attention during these meetings is given to projects that may be stuck in neutral or falling behind.
I cannot stress enough the importance of a simple, one-page document listing each project with permanent details that are actionable, like the one below, that should be readily available to those in senior management.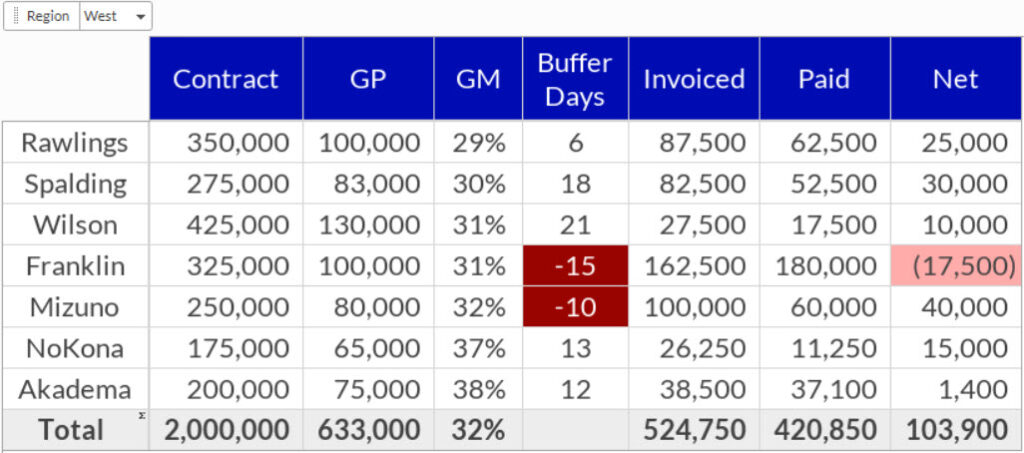 There is nothing special or magical about this simple WIP schedule. We don't create these one-pagers. Instead, they evolve over a period of several iterations.
Many schedules have a start date and a project status. In the example above, the PM opted to use Buffer Days. That's the number of days the project is ahead or behind schedule. I'm assuming the PM knows that projects on time are not dealing with other issues. If that's not true, add another column stating the true reflection of this project.
Before moving to the next section, I have a few questions that every PM should be able to answer within 2-3 minutes:
Over the past three years, how many jobs or contracts have finished on time?
For the jobs not completed on time, what was the primary reason for the delay, and how were fixes addressed to ensure the problem would never occur again? I highly recommend using a Pareto chart with your reason codes for this answer.
How often do you update your WIP schedule? The right answer is each evening.
Accounting Management
I nearly omitted this project management pillar. Most PMs use industry-specific project management software tightly integrated with the accounting system. For me, it's easy to take accounting management for granted because of these dual systems. However, here are a few critical requirements under accounting management:
For Customers
Timely and accurate billings
Follow-up on past-due accounts (the first day late)
Application of cash receipts to the cash flow report
For Vendors
All bills authorized, reviewed, and approved by appropriate parties
Timely automated payments
All other administrative practices followed (e.g., permits and compliance reporting)
Many small businesses apply muscle memory to the steps mentioned above. Many do not have checklists or processes spelled out. In those cases, scalability and repeatability are at risk. Remember, the backstage supports and helps to make the front stage possible.
Cash Flow Management
I wish I had a Jim Collins or McKinsey budget to do a global survey on how many small business contractors with revenue less than $50 million do weekly cash flow forecasting that is meaningful and actionable. I bet the percentage is small.
By the way, do a Google search on the following string: 'weekly cash flow template contractors.' You can also try numerous variations for the term 'contractors' in your searches.
Any luck? I found two, but the focus is on monthly reporting, not weekly forecasting. Others are far too generic. Unfortunately, you'll have to create something from the ground up. Before we do, there is a critical concept you must always remember.
Every monetary transaction involves two dates. Let's use a customer invoice as our first example. You have to know the following two dates as a project manager:
The planned date of a customer invoice
The expected date of the customer receipt
Similarly, for subcontractors' invoices:
The expected date of a vendor or subcontractor invoice
The expected date that the bill will be paid
To summarize, PMs must know date pairings for money coming in and going out. The missing link for many small contractors is that they ignore expected cash dates. If so, weekly cash flow forecasting is impossible.
Below is a super-simple representation of a weekly cash flow forecast for a contractor. A lot is going on behind the scenes. It looks simple, but some of these can take time to build and perfect, especially if the accounting management is non-existent and doesn't understand why PM changes and cash receipts and payments have to be included in this database to ensure no duplication of cash coming in or going out.

Enter the start date
Start with AR, and run it off based on customer terms and payment norms
Follow AR with AP and show the paydown of that liability
Through the estimates of the PM, automatically link contract cash dates to receipts and payments
Enter non-contract overhead and administrative expenses
Enter the beginning cash balance
Review the projected ending cash balances per week
In the situation above, I don't like it, but we have a $1 million line of credit secured through a personal guarantee and liquid resources that mitigate the bank's risk on this line. Annual renewal is a non-issue.
Pick a day of any week. That's the day this schedule should be updated, but always follow a checklist such as the following:

If errors are encountered, it's typically not a people problem. Rather, it's a process problem. Either someone skipped a step or ignored it. That's why the links in the example above are critical and take the key players to the necessary checklists to follow each week. Remember, a pilot still follows his/her checklist before each flight, even if they've done it hundreds or thousands of times.
Summarizing the Three Pillars of Project Management
Whoever said a picture is worth a thousand words has never looked at my design work. However, below is a simple visual of the three pillars: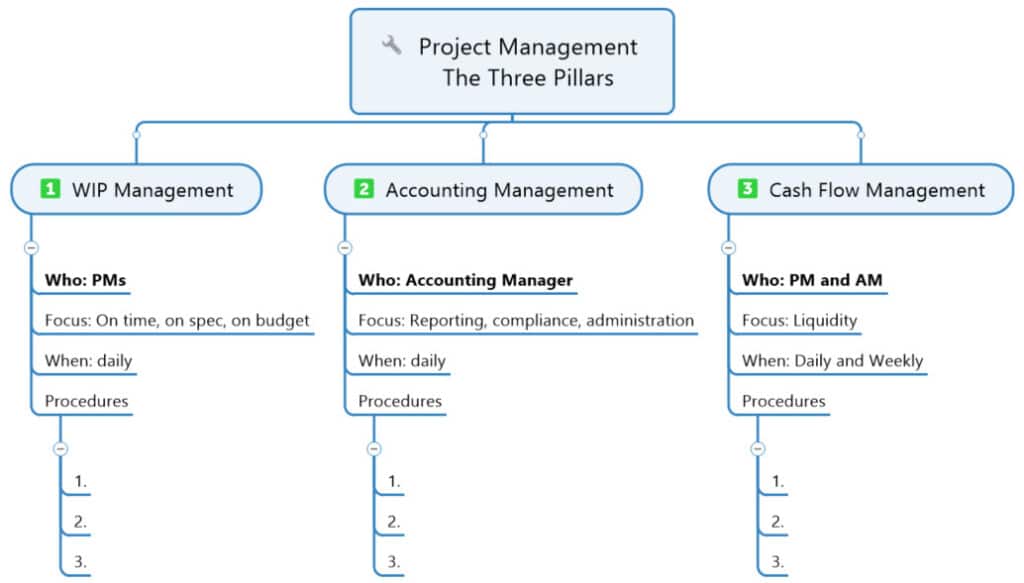 In smaller firms, accounting and cash flow management are weak to non-existent. If that's the case, muscling a process is not the solution. Pillars 2 and 3 must be designed and implemented just like the first pillar.
When I start working with new contractors, the grades look like the following:
WIP Management | B-
Accounting Management | C-
Cash Flow Management | No grade
WIP management is typically held back because recurring problems keep happening. There is very little focus on dealing with root-cause issues that lead to better and faster projects.
Accounting management is typically caused by non-accountants who think they understand accounting because the software package makes it look like a spreadsheet app. Accounting is often a nightmare because no procedures and checklists exist.
Cash flow management receives no grade because many owners take cash flow for granted and never knew such a process existed beforehand. Once they see examples, they make the mistake of saying, "I need that report now." That's dangerous because it's a recipe for disaster.
No one wants projected cash flows more than I do. However, the same mindset used to maintain WIP management is needed for supporting cash flow management. Strong systems, processes, procedures, and controls are needed. The rest is easy.