Integrity – I Know It When I See It
I've never been a fan of any company stating they are a business of integrity on their website. I believe integrity is best caught rather than taught.
Accordingly, walking the talk versus talking the talk is far more attention-grabbing. And that's why I want to give a standing ovation to one of the business developers at PFSbrands (PFS) in a recent meeting. But more on that later.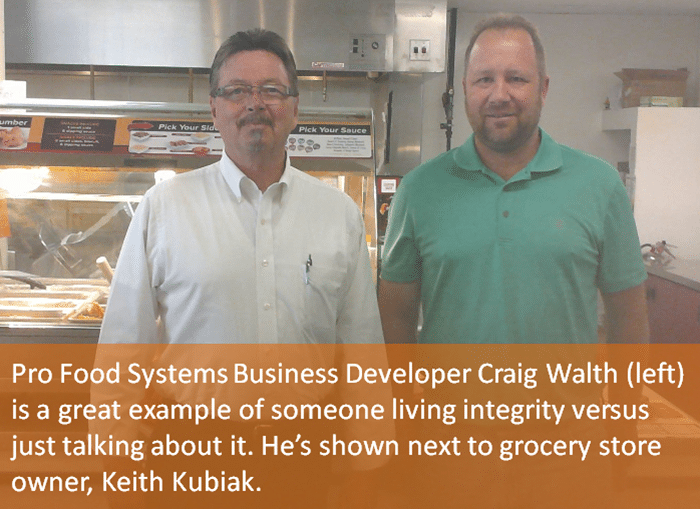 My Favorite Example of Business Integrity – The Story of the Meloon Family
One of the books I cherish in my library is Robert G. Flood's On the Waters of the World, which may be out of print.
The Meloon family started a pleasure-boat building business circa 1925. Their reputation for quality is shown during World War II when the family business was asked to meet a critical deadline helping General Dwight Eisenhower defeat Hitler's armies along the Rhine.
Success followed until they hit a major roadblock just a few years later.
During the Korean War, the Meloon family refused to pay bribes to an unscrupulous purchasing agent in return for positive inspections on a 3,000 quantity boat order.
That one decision based on integrity ultimately led them to bankruptcy.
The Story Does Not End There
Slowly, the family came back little by little. Coincidentally, the government of Pakistan bought many of those rejected boats. But the financial losses were too much to overcome.
In 1965, a judge ultimately released Correct Craft, the Meloon's boat business, from Chapter 11 of the Bankruptcy Act. Correct Craft only had to pay it's creditors 10 cents on the dollar within six months. All but one creditor agreed.
After the decision was made, the Meloons actually paid their creditors 20% versus the 10%. But co-founder Ralph Meloon was still not happy.
Over the next 18 years, the remaining 200-plus creditors would be paid back everything owed to them.
In some cases, the checks had to be delivered to an heir as some of the creditors were no longer living. In this case, integrity required commitment, persistence, and single-mindedness.
While some might call this insanity, I call it integrity–doing what's right when no one is watching.
A Great Story Worth Repeating
Mentioning Craig Walth in the same breath with Ralph Meloon?
I don't want to embarrass Craig, but integrity is integrity–doing what's right when no one is watching.
That's precisely what Craig did with one of his prospects. One of his new customers wanted a higher-priced PFS offering.
But Craig (politely and professionally) recommended a brand far more suitable for the customer. His recommendation resulted in a lower sales amount for PFS. But the customer will acheive more success with Craig's guidance.
When I heard this, I was taken back. Yes, this is Craig's M.O., his founder's M.O., the entire company's M.O. It's the PFS way of doing business–they think nothing of it. But this observer thinks its a big deal.
Still, Craig deserved a standing ovation when I heard this story.
We don't do these acts driven by integrity so they can be seen. But in this case, I'm glad I (accidentally) got to hear this encounter because stories like Craig's and the Meloon's inspire me to keep raising the bar higher.