Advice for a Talented MBA Marketing Student
Quick, how many counties does Missouri have? No Wikipedia cheating.
Maybe you're not from Missouri, but rest assured it's not just the home of great baseball teams (the Royals and the Cardinals), but the Show Me State ranks in the top 5 by number of counties–114, and that's not counting St. Louis, which does not belong to a county (it's considered an independent city).
So what?
No, not at all. This was the first conversation I had during lunch with Trevor Monnig, the CFO of Missouri-based Pro Food Systems and his step-son Zach Mason, an MBA student enrolled at the University of Missouri.
Trevor's first financial role was in internal auditing and later M&A for the hospitality and hotel management organization owned by John Q. Hammons.
On Trevor's first day on the job, John Q. himself did not ask Trevor what the average room rate or occupancy level was for his hotels. Instead, it was, "How many counties are there in Missouri?"
I wish he would have asked me. My answer would have been, "Way too many."
Enough of Missouri counties. On to the good stuff.
Zach Mason Has a Great Career Ahead of Him
In five minutes, I quickly formed an opinion that this guy is going to be good, really good. His first employer is going to love this guy.
He's traveled the world. He has excellent communication skills. And Zach understands why businesses need a strong marketing strategy. He also appears to adapt well in group problem-solving exercises. I'm even betting he's the appointed leader by consensus in all group projects.
Will Zach's coursework be enough for him to land a great job after graduation? Yes, more than likely.
But I have a few homework assignments for Zach if he's game. I truly believe these are fitting for any young marketing student about to graduate (whether it's an undergraduate degree or post-graduate studies).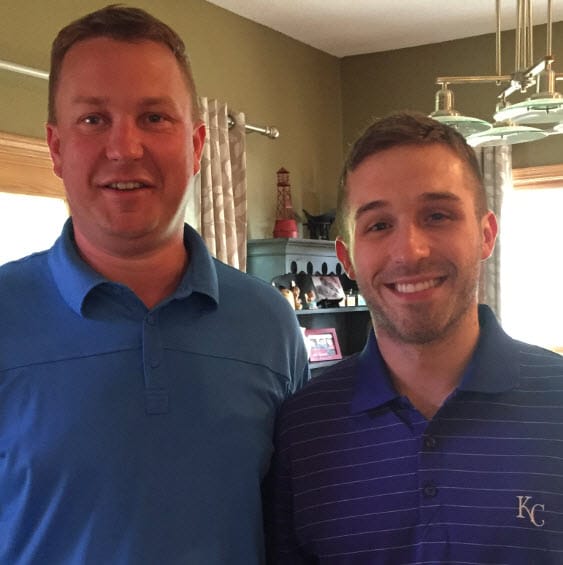 Assignment 1 – Pick Three Local Businesses and Develop a One-Page Growth Hacking Plan
Maybe I'm odd, but as I'm driving and noting the businesses that catch my attention, I'm always wondering what their business model looks like. What drives their revenue? What's their cost structure? Their revenue per FTE? How would I model their business in Quantrix or Whitebirch?
On a recent trip to historic Arrow Rock where it appears there are as many antique stores as Missouri counties (I'm kidding), I was able to find out the sales volume for several of the larger stores. Not much. Don't get into the antique store business in case you are tempted.
Do marketing minds do the same thing? When you drive by a local coffee hangout, do you start thinking about the best ways to improve their marketing activities?
And that's homework assignment number 1. For the following businesses, how would you improve their marketing strategies and tactics? Here's the list (you can modify if you like):
1. Jiffy Lube (combined)
2. Williams-Keepers
3. Hair Unlimited
4. Carfax
5. Winter-Dent (Columbia office)
Keep it simple. Use your own creativity on how to create the strategy and then the tactics.
Assignment 2 – Study Several Landing Pages and Recommend Changes
This one is hard. It's hard because I was specifically looking for landing pages of Columbia-based companies.
Instead, find three landing pages in the following blog entry. Don't read the blog. Just pick three images. Then determine what you like and don't like.
Remember, a landing page needs a compelling title, no distractions, and an obvious call to action. Here's the link:
Landing Page Examples: Learning from the Best & Worst Landing Pages on the Web
Done rightly, this tactical approach to drawing new traffic can fit snugly into a much larger marketing strategy. If interested, spend some time over at LeadPages or Unbounce for more creative ideas.
Assignment 3 – A Few Good Reads
I've always been drawn to marketing. I like the right-brain requirements demanding creativity which I fully lack. But I'm also drawn to the analytical side of marketing which I can more closely relate to.
More importantly, I like marketing because it leads to more sales when done right. As Copyblogger's Sonia Simone says, "Marketing is sales amplified." I wholeheartedly concur. In short, good marketing equals more sales.
Since I'm not trained in marketing, I want to know the basics. Yet, I'm betting these are not on your school's recommended reading list.
I realize college students don't have time to read. If you do, check these three out. All three are practical, hands-on, and quick to read.
1. Jump Start Your Business Brain by Doug Hall
2. The Brain Audit by Sean D'Souza
3. A Million Miles in a Thousand Years by Donald Miller
The last book by Donald Miller is recent, but he addresses the story arc based on the teachings of Thomas Campbell and the hero's journey.
I like a list of three instead of four books. But let me add a strong honorable mention: Influence, by Robert Cialdini.
Incidentally, these books are not just for marketing minds. These are excellent reads for the CEO. Trevor, if you made it this far, these books are for CFOs too.
Assignment 4 – Create and Sell a Product
Have I lost you yet?
I'll make this easy. Create an information product that you know would sell. You're a marketing student, so you should understand the whole problem-solution thing, right?
How about an ebook on travels abroad, but narrow it down. Or an ebook on the best hacks for getting through a marketing MBA? Create the product, then sell it on Gumroad.
Or, find something to sell either on eBay or Amazon. Arrange to sell a product of a Columbia-based retailer on Shopify which can be set up in about 20 minutes or less.
Now go market it.
Too hard to do? Not enough time? Give it a try. Even if you fail, you've learned a ton out of this exercise.
Assignment 5 – Create Your Own Website to Land That First Job
Do this last. You can even wait a couple months before graduation.
Why?
LinkedIn is marginally helpful for college students because there's not much to show in the job history.
My solution is to create a website where future employers can check you out and your work. On your new site you can do the following:
1. Talk about your travels abroad (yes, I said talk – do this in front of a video camera).
2. Talk about your class projects and how you made a difference.
3. Those pesky assignments above? Include them if they make you look good.
So what are doing with this website? Essentially, we're reverse engineering Topgrading® (Trevor can tell you all about Topgrading®). Business owners want A players. This site should validate you are an A player.
Consider the wise advice of Donald Miller from the book I recommended above–this site isn't just about you. Instead, it's a problem-solving site that will spur future employers to want to hear more. And that means more interviews for you.
Imagine for a minute when you send a follow-up e-mail to a decision maker when seeking an interview. "Donna, don't forget to check out my personal website where I address 3 of the 5 issues your company is trying to fix right now." How many other students will be able to do this?
Go ahead and fill out that LinkedIn profile. Just make sure you have a strong hub, which is a platform you own that communicates the problems you'll be solving in your first marketing position.
I'm Bookmarking Zach Mason
Like I said, this guy has success written all over him, and you would never guess it outwardly because he's humble and sincere.
Zach, next time, you get the ticket.
Great meeting you too.
Postscript: More Ramblings on Missouri Counties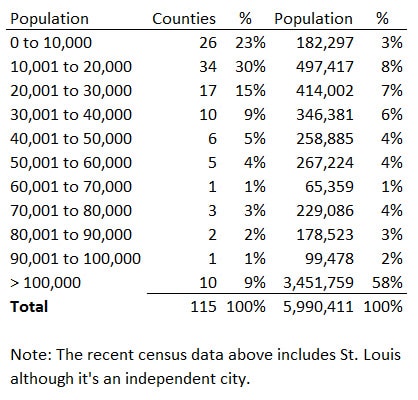 I suppose the numbers could be worse.
I did some analysis revealing the the number of residents on average per county from lowest to highest.
Missouri's population is roughly 6 million. And that's one county for every 52 citizens, good for 16th. No surprise, South Dakota ranked first at 12,336 per county–not very many. At the other end of the spectrum is California. they have one county for ever 642 thousand people. Not sure if that's good or bad. I bet Arnold has an opinion.
Pareto is pretty much in play as well. Thirty percent of Missouri's top counties comprise 80% of the population.
Trevor, it's too bad I wasn't your personal data analyst when you got out of school.
John Q. would have either given you a promotion and a corner office for having such a comprehensive answer on Missouri counties, or he would have thought you were some data lunatic. Glad I'm not one.